Giampiero Romanò, born in 1973, is an art-designer from Milan, Italy.
His background is not made by design school or arts academies, but rather among nails, hammers and paints in his workshop located in the beating heart of Porta Venezia quarter, where he dedicated himself for more than 20 years to the research and the restoration of antiques and design pieces.
Thanks to such experience and extraordinary hand skills, he started a fruitful collaboration with Maurizio Cattelan and Pier Paolo Ferrari's Toiletpaper Magazine, adding his original and recognizable touch in the display of their famous graphics by producing art pieces exposed in renowned galleries worldwide.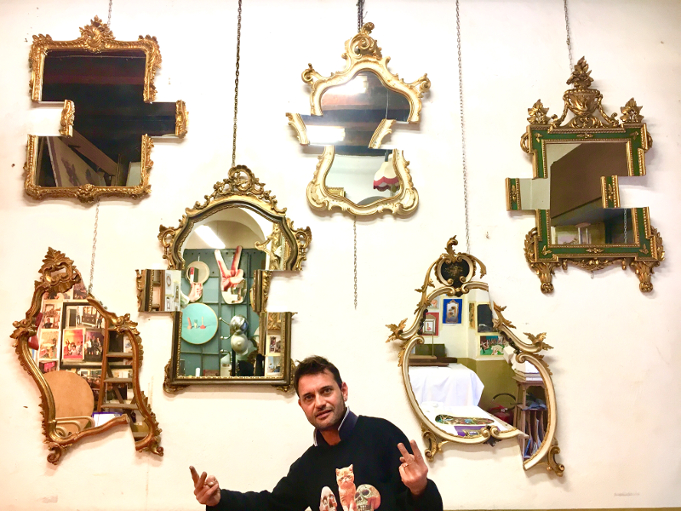 The appreciation shown for such artworks was the sparkle that made his creativity explode, pushing Giampiero to create one-of-a-kind pieces as an outcome of his extraordinary imagination, up to launching his own line of furniture and accessories, which name, Antichità 3000, well represents the concept the artist wants to express.
If creativity is the art of looking at old things with new eyes, Antichità 3000 line perfectly embodies this idea: Giampiero Romanò melt in fact the heritage of antiques and the art of the past with a gaze to the future, to the newness, to the never seen before, in order to upset the common esthetical canons and replace them with something new and original. His irony and visionary, along with technical knowledge of the materials and manufacturing skills of a yesteryear master craftsman, reflect in his artworks, where, among various creations, stand out spectacular one-of-a-kind mirrors.
RECENT ACTIVITIES
– April 2019: Fuori salone – Design Pride Art installation in piazza Castello organized by Seletti;
– October 2019: Starts collaborating with PlanXartgallery (12 unique pieces sold to important private collectors since December 2019);
– November 2019: "Out of Line " exhibition in collaboration with the artist CB Hoyo organized by PlanXartgallery;
– December 2019: Vanity Fair awarded the 16 winners of the "Vanity Fair stories 2019" with a series of his limited edition mirror;
– January 2020: takes part with PlanXartgallery in an high-profile exhibition in Dubai, "64 years of art in DFCI" organized by 71 Structuralart;
– April 2020: the brand Seletti chose 4 of his pieces to be included in their catalogue making him joining their team of art designers. The pieces are 3 shaped mirrors with graphic prints and a cut-out resin one (other projects with Seletti are ongoing);
– April 2020: takes part in a series of Charity auctions for the Pandemic, organized by important foundations;
– December 2020: makes an important piece for a private collector in collaboration with Maurizio Cattelan and Pierpaolo Ferrari with a Toiletpapermagazine graphic.